Loveland officially closed its doors to the public yesterday, and all the regulars were out in force. We couldn't have asked for better conditions during closing weekend, especially since April delivered for us in a big way. And although we fell just 6" short of our all time season snowfall record, we did manage to break our record for deepest snowpack in Loveland history at 120". There's still hope for the record to be broken though because technically they keep track of the snowfall through May 15th. Don't ask me why.
Any way, on Saturday some friends and I hiked a couple of fun lines on the southwestern flanks of Mt. Trelease (pics may follow depending on whether or not Cory gets his shit together).
Sunday we hiked out to Marmot where my friends Bo, and Will proceeded to get stupid off of the massive cornice sitting atop peak 13,010. The landing was less than ideal and the drop was man-sized; but that didn't stop Bo or Will from stomping that shit like it was their job. My hats off to you guys. I don't have the sack to drop that thing into anything but pow.
Bo(1st pic) and Will (2nd pic) do their thing off the massive Marmot cornice.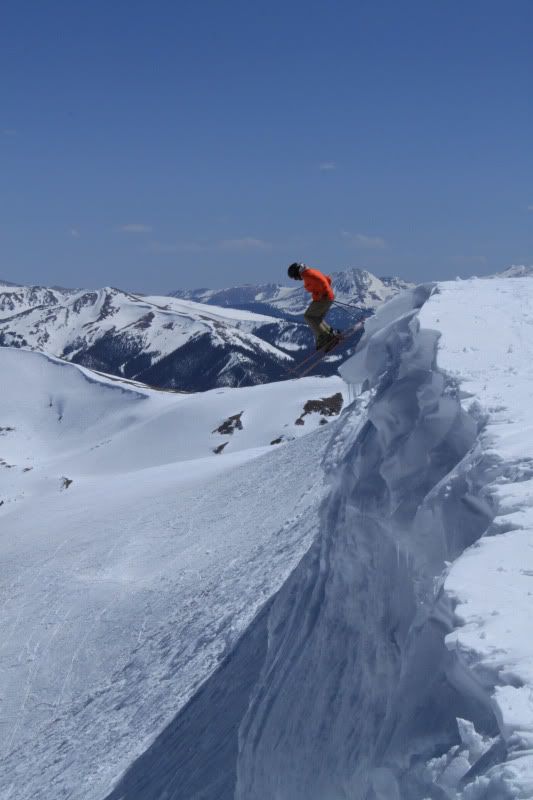 From 13,010 we headed down to the Rock Chutes where the girls got rowdy in the main line while Bo managed to slip into a little pinner on his tele's.
The view was ok I guess.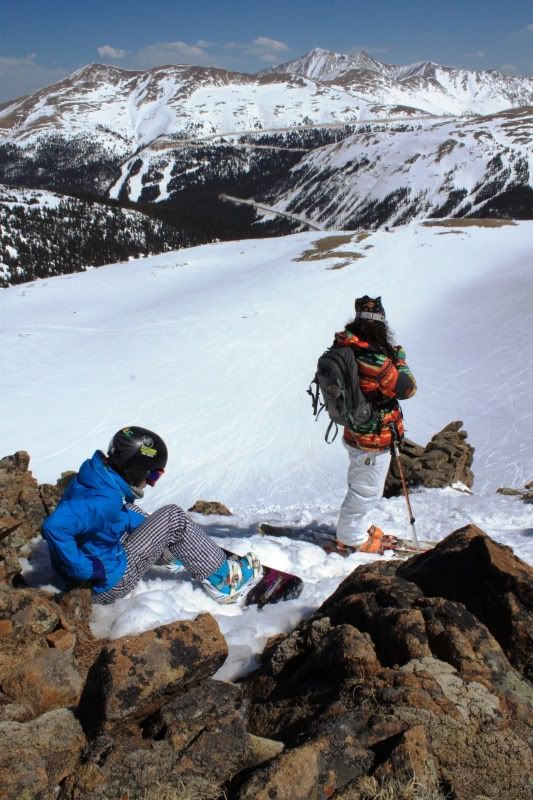 Erica says, "I wanna do that one."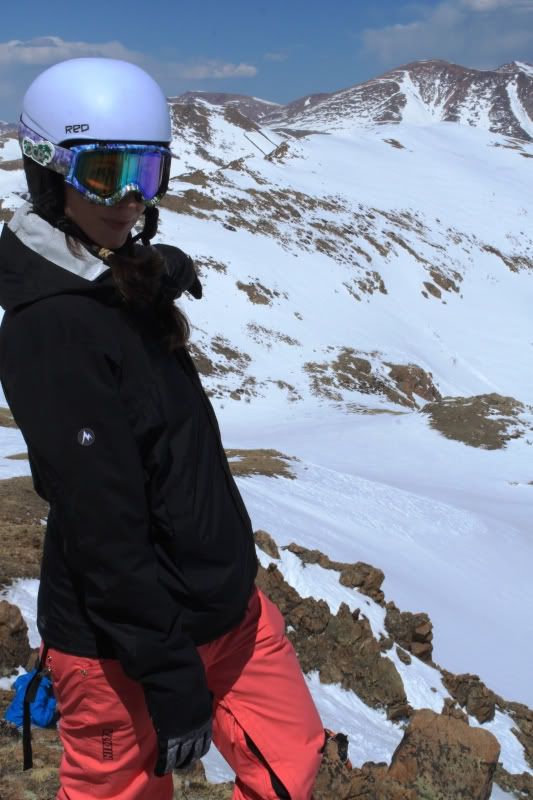 And she did...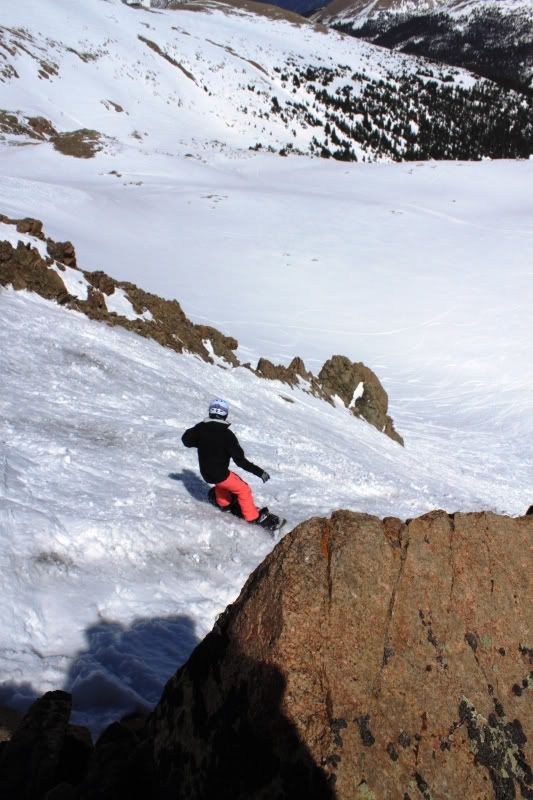 As did my boss' girl Jenny.
Bo slippin silently between the rocks.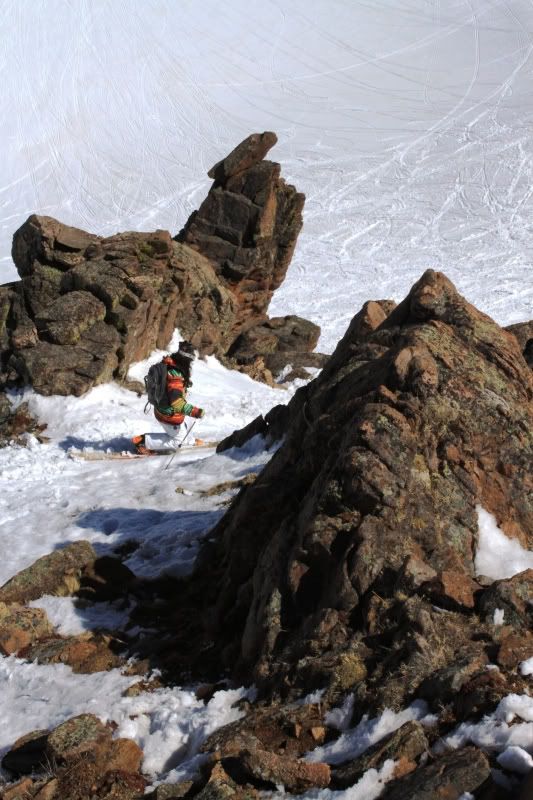 The Citadel has watched over the Loveland Basin from the north for millions of years. I'm hoping to climb and ride this beast in another week or so. Stay tuned.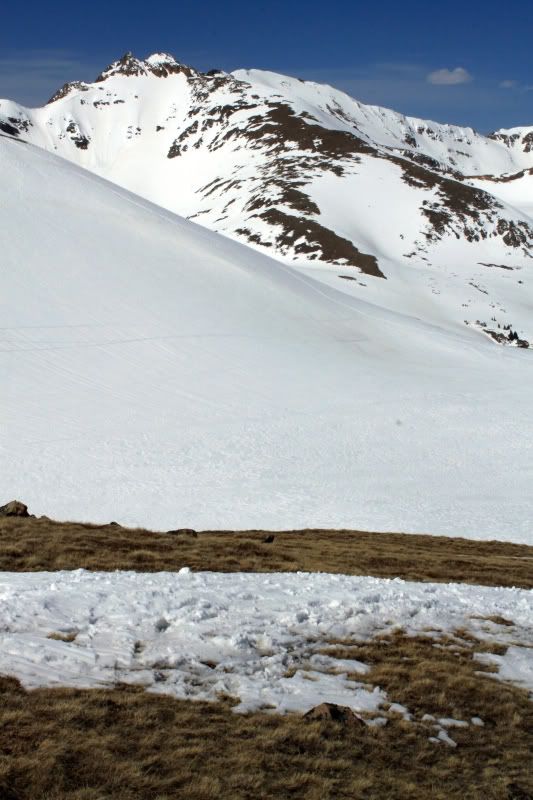 Monday was the last day the lifts would turn at Loveland, and only for employees. Crowds gathered at the base of chair 1 (the only one spinning) and the private corn harvest was on! Never being one for the crowds, I decided that it would be fun to take a walk up to Porcupine Ridge, a zone just out of Loveland's boundaries. Porcupine is a massive fin of Rock rising some 4-500 vertical feet above chair 6, and some ~900ft or so above where we started our hike in Dave's ditch. Porcupine holds some great sustained fall line riding, a little gnar and a lot of fun for anyone determined enough to hike it.
Looking at Porcupine ridge from Marmot the day before.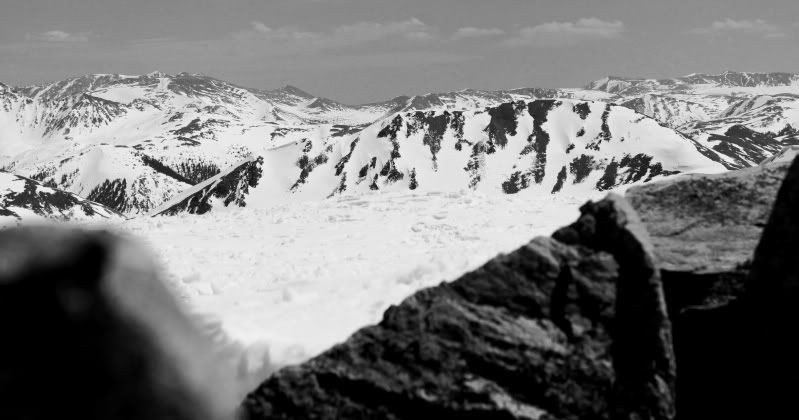 I was joined by my good friend and fellow instructor Ron. This was Ron's first year living out west, and its been really fun riding with the "old man" as we affectionately call him. He has no problem keeping up with us, and he's commented regularly in the last few months that when he rides with guys his age (45), that he regularly has to wait on them, and that riding with us "young punks" has been a good influence on his riding.
Ron and I were both stoked to do this hike, so we set off around 11am planning on about a 45minute hike. We gained the saddle from Dave's ditch in about 20mins and from there we figured we'd have about a half hour climb up the shoulder of the ridge to an elevation of 12,500ft. From there, the plan was to descend the eastern flank of the ridge as we figured the snow in the northern lines hadn't softened up enough yet. We hiked on from the saddle for about 15mins or so with the wind picking up and beginning to gust HARD. With boards on our backs acting like sails, wind gusts approaching 70mph, and dark clouds looming over the divide we tucked tail, pulled the plug and settled for an abridged version of our original objective.
The hike up was pretty straightforward, but variable snow conditions were encountered along the way. In the chute in the saddle we were faced with a pretty nasty crusty layer and no crampons. All in all though, the hike was pretty tame.
Ron taking a rest just before the saddle that takes us up to Porcupine Ridge.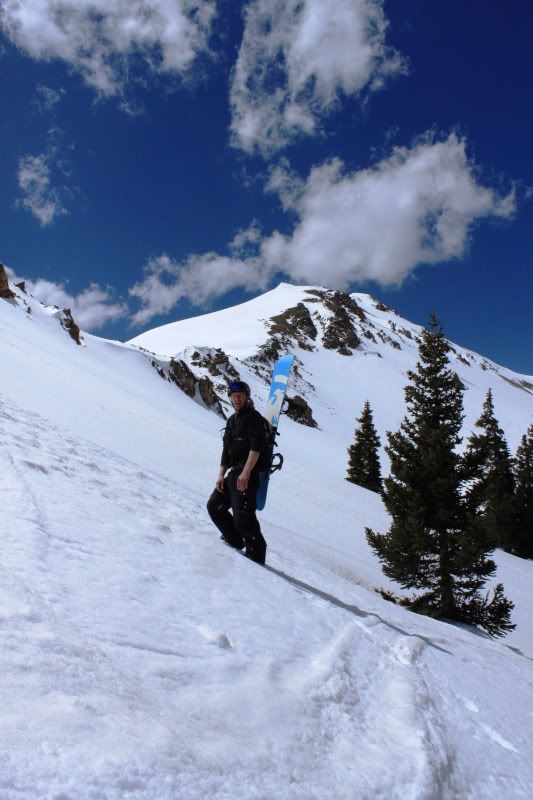 Me gazing up at the ridge. We were headed for that little point of a cornice on the looker's left.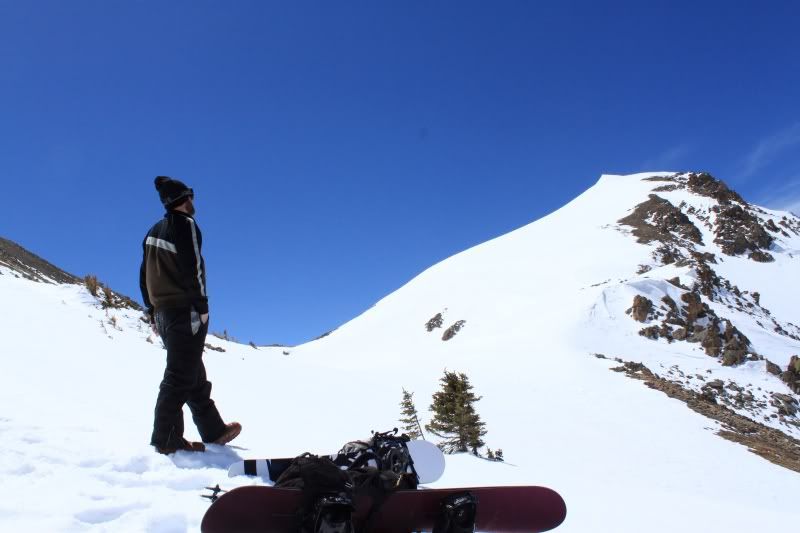 The ride down was great. Beautiful creamy corn turns were pushed out down the lower third of the eastern flank, while a more firm surface awaited us on the more northerly facing line that we booted up to gain the saddle. All in all it was a great hike, even though we had to turn back. You can bet I'll be back up to Porcupine Ridge again soon to bag my original objective.
Our consolation line. (my tracks are on the right and Ron's are on the left)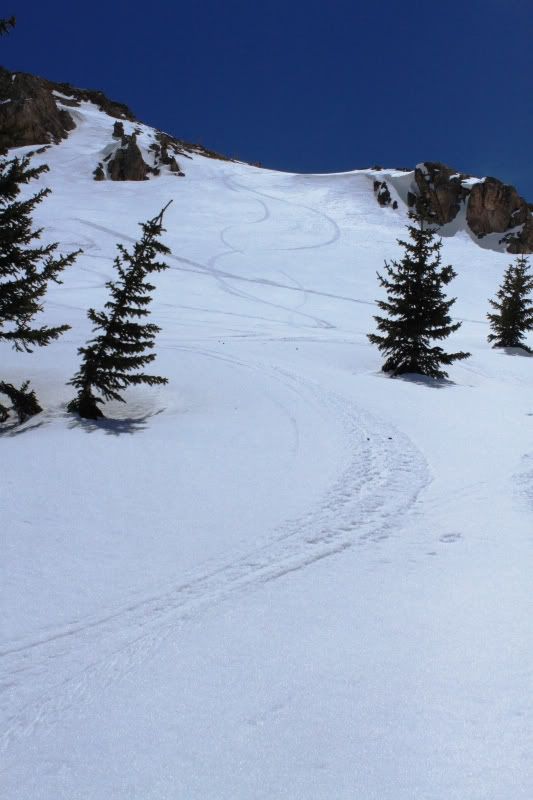 I'm always stoked to hike for turns.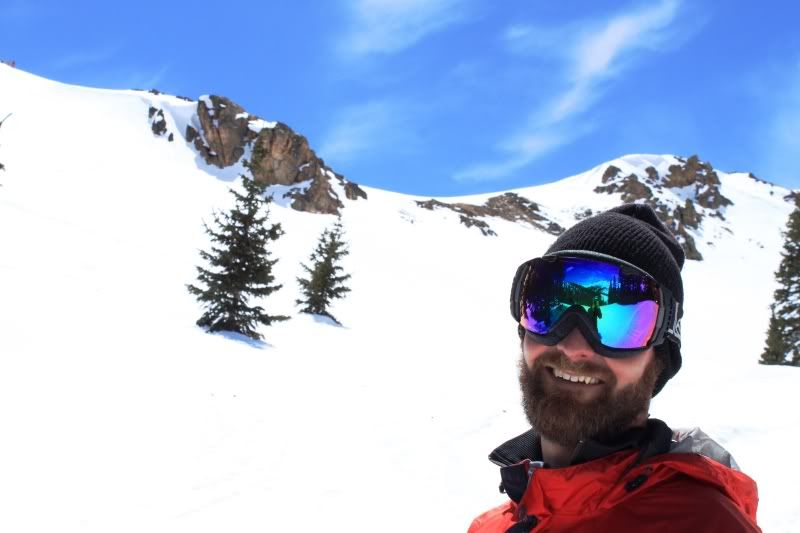 Ron admires our handiwork on the mountainside.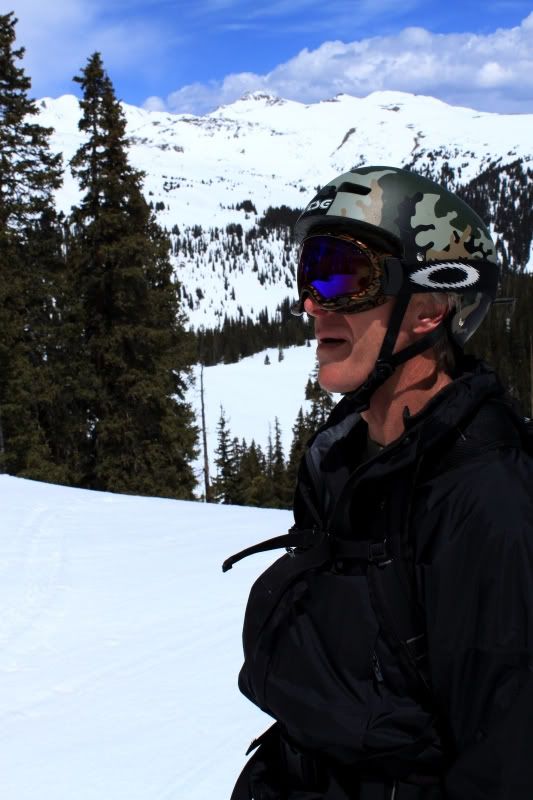 Thanks for looking. PB