There is something really special about making turns in the summer, especially if the snow is still good. You say to yourself, "Its July, and I'm making turns....HOLY SHIT!!! ITS JULY AND I'M MAKING TURNS!!!". For countless summers growing up I would periodically have snowboarding dreams only to wake up disappointed to look out my window to see green grass instead of a blanket of white. Regardless of how many years I've been riding, getting to make turns any time after about mid-may is a huge source of stoke.
Perhaps its simply the novelty factor, or perhaps its the fact that you know that everyday deeper into summer decreases the likelyhood that you'll be riding tomorrow. Toward the end of June, any day you get to spend on your board is like living the mid-summer snowboarding dreams you'd have as a kid, except when you pinch yourself you don't wake up disappointed...hell, you don't wake up at all because you're there, living it; its truly surreal, like a lucid dream.
Contributing to the dream-like state, I got out of work around 10pm, rounded up my gear and made the 1 hour plus drive up to the old ghost-town/mine site of Waldorf. Tired from a long shift at work, I met up with Cory, and his friend Zaida. Cory and I had been discussing riding a line off the summit of
Argentine Peak
for the past couple of weeks, but couldn't seem to get our schedules to align enough to make a go at it. However, it became readily apparent at first light that things on Argentine had melted out significantly since my scouting mission up there only a week and a half prior. Still, there were aspects holding plenty of snow and one line off the eastern flanks of
Mt. Edwards
caught our eye. We made breakfast under a hot, rising summer sun and set off with eyes still burning from a lack of sleep in a half-conscious state. We quickly settled into the 'click-clack' rhythm of hiking and our bodies slowly awoke with the rising sun. We reached the top of our line in a little under an hour and a half and relaxed for a bit in the ever increasing warmth of summer before dropping into 1200 vertical feet of smooth, but super slushy snow.
Driving up to Waldorf...

Jetboiling
up some oatmeal for breakfast (Photo: Cory Arola)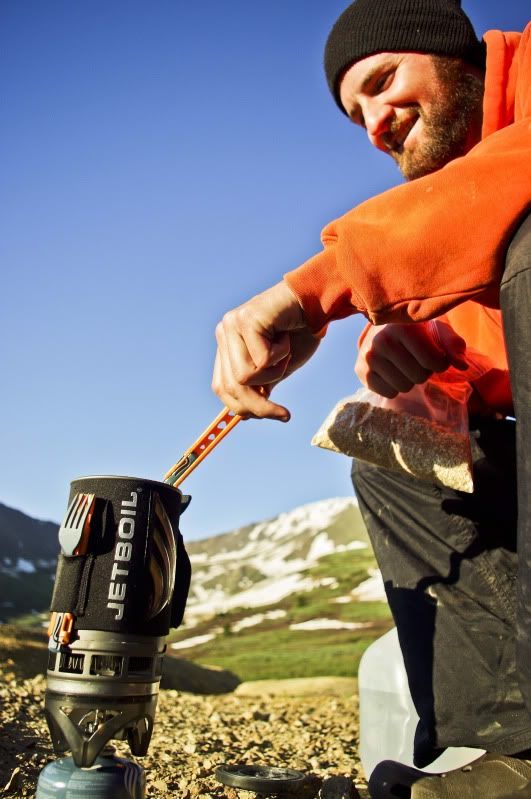 We all were a bit over dressed for the warm sunshine, but that didn't stop us from making good time up to the top of our line.
Cory and Zaida putting in work on the up...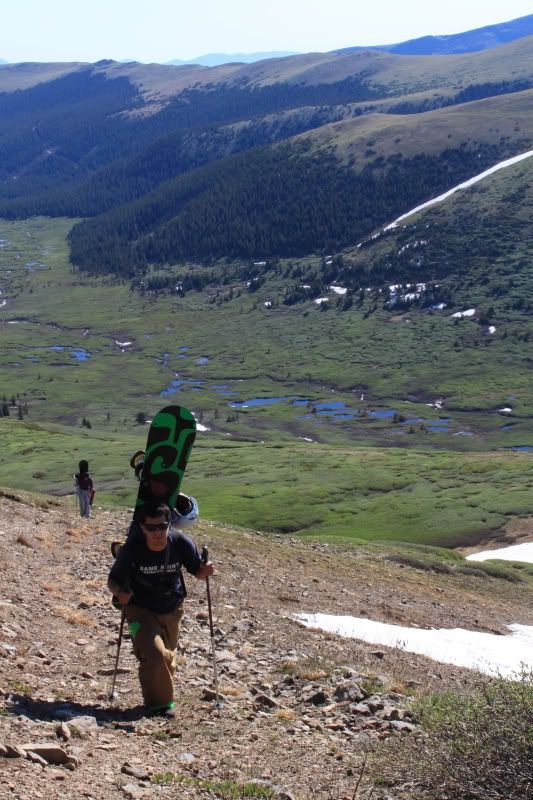 It was Zaida's first back-country experience. Needless to say she's hooked.
(Photo: Cory Arola)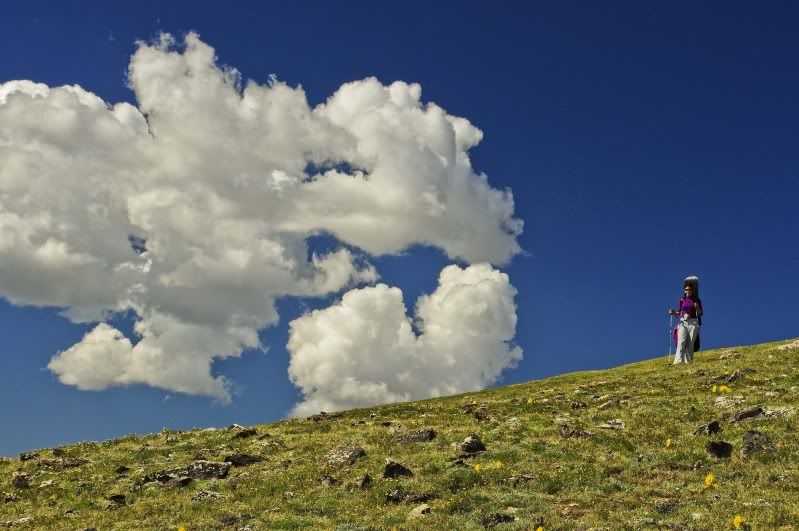 We had talked about doing a
14'er
for the 4th, but decided against that since half of what draws us into the mountains and the back-country is the escape from the masses, the solitude that so many people now-days fear. If you've ever been on a 14'er in the front range during the summer, then you can appreciate what I mean.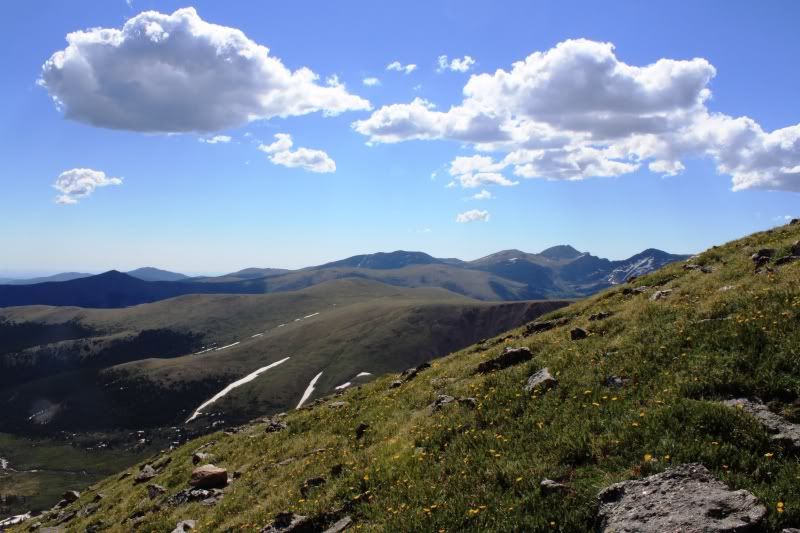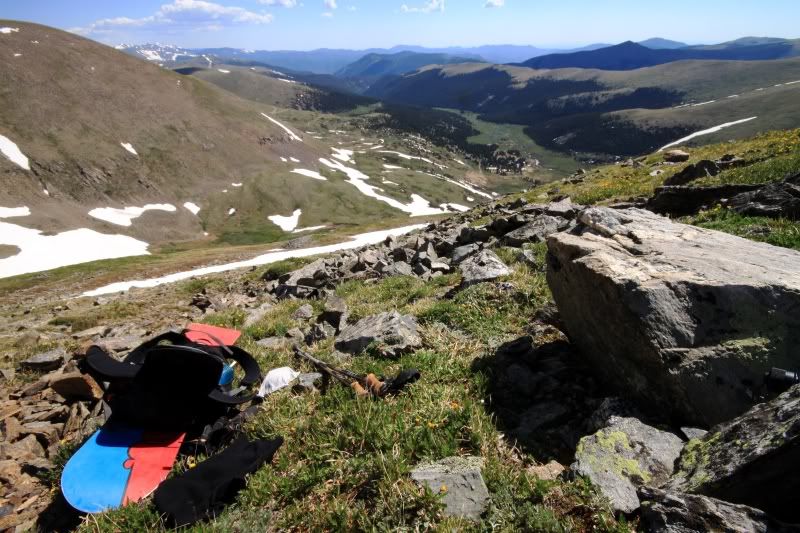 Cory and Zaida relaxing in the summer sun and silence.
We were the only ones in the Argentine Pass area for our entire climb and our descent. Save for a curious Mountain Goat.
"Don't these assholes know its summer?"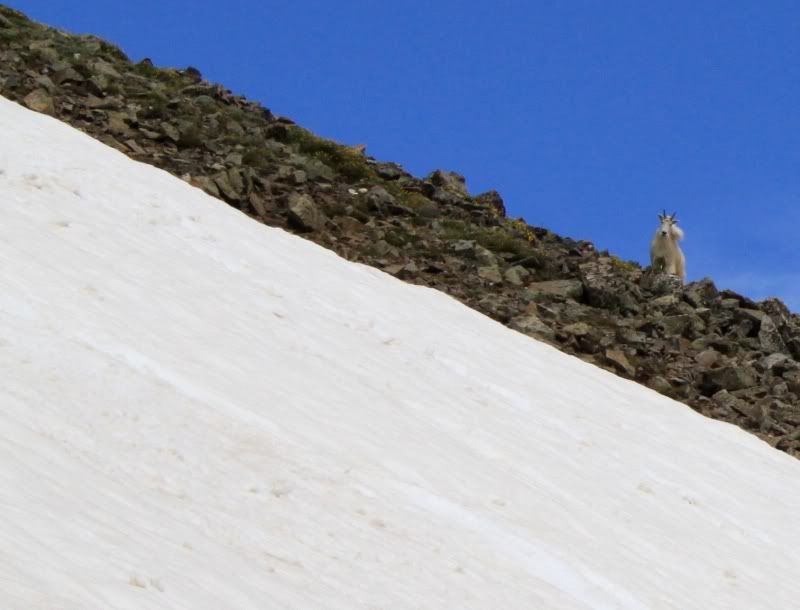 Cory making his way down 'O'-Face.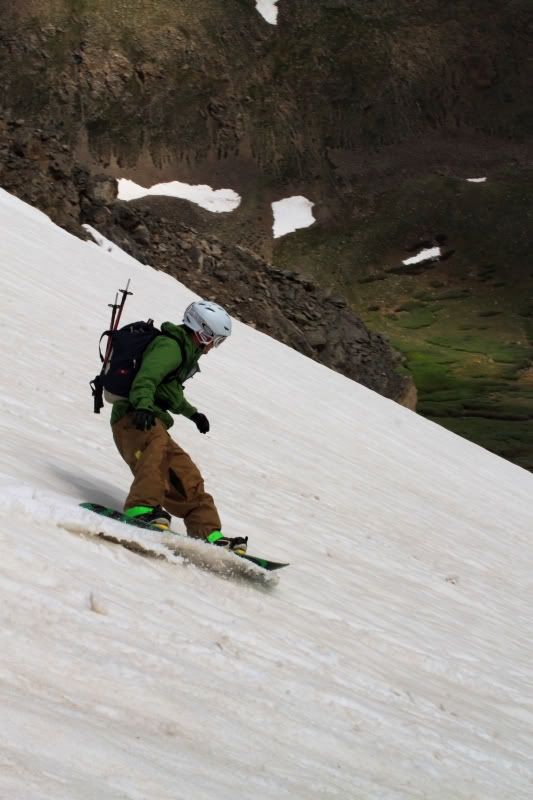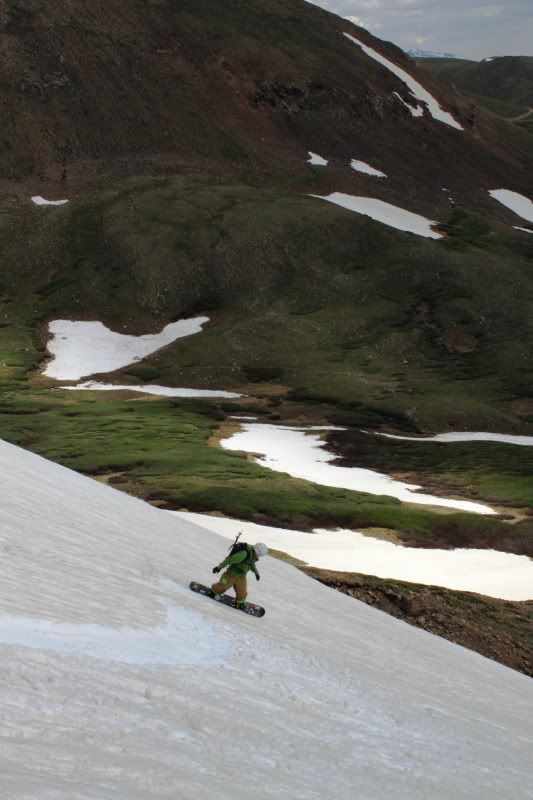 Then it was Zaida's turn...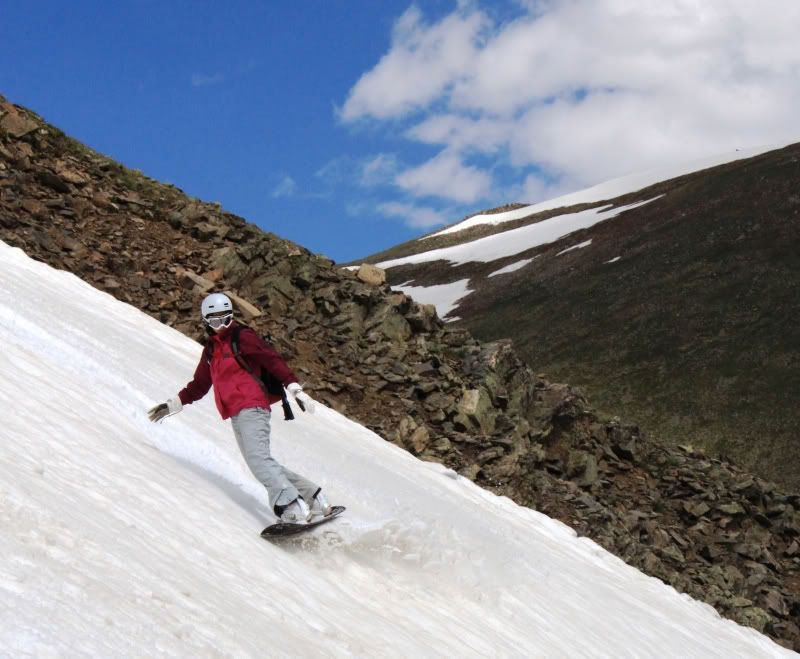 I then dropped from the spot I had been shooting from, about mid-way down the line. The snow was smooth, but slushy. Shit, I'll take what I can get in July. (Photo: Cory Arola)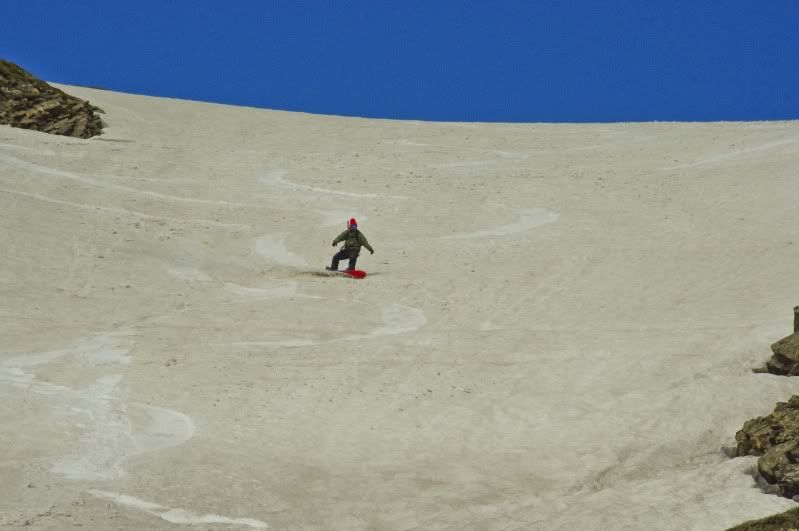 Photo: Cory Arola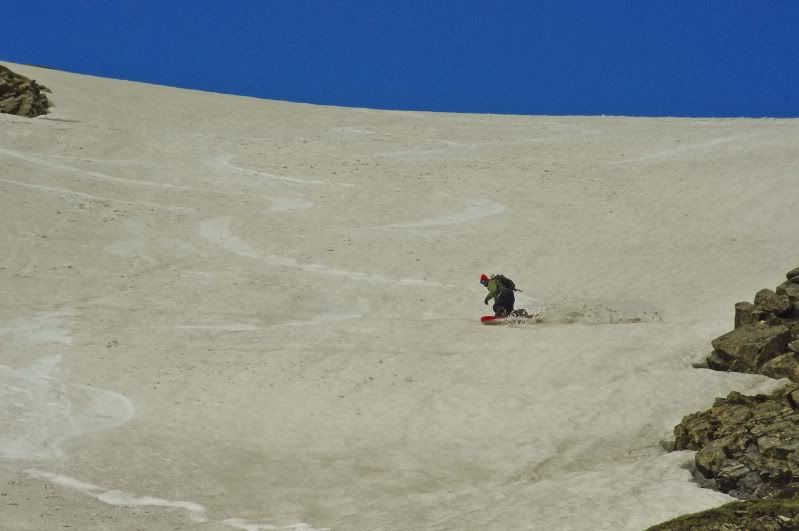 Needless to say, I was stoked to have just rode 1200 vertical feet continuously on the 4th of July. My latest riding date ever. (Photo:Cory Arola)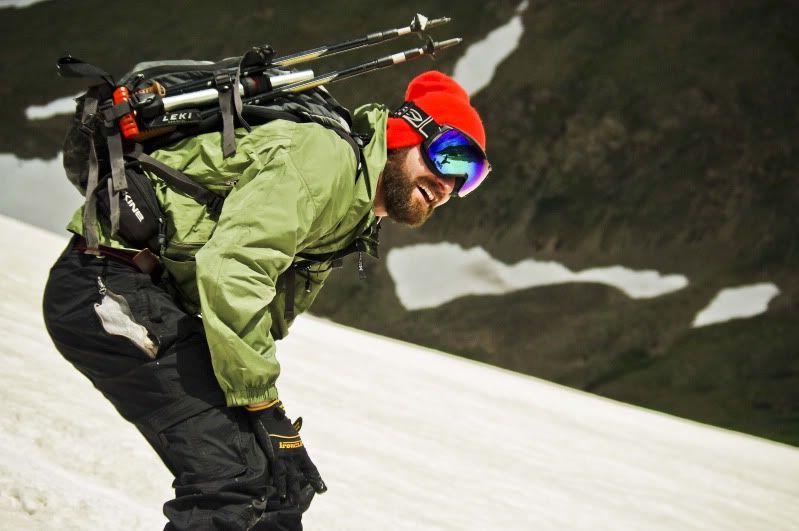 We stopped to admire our summer signatures...I mean, you have to right?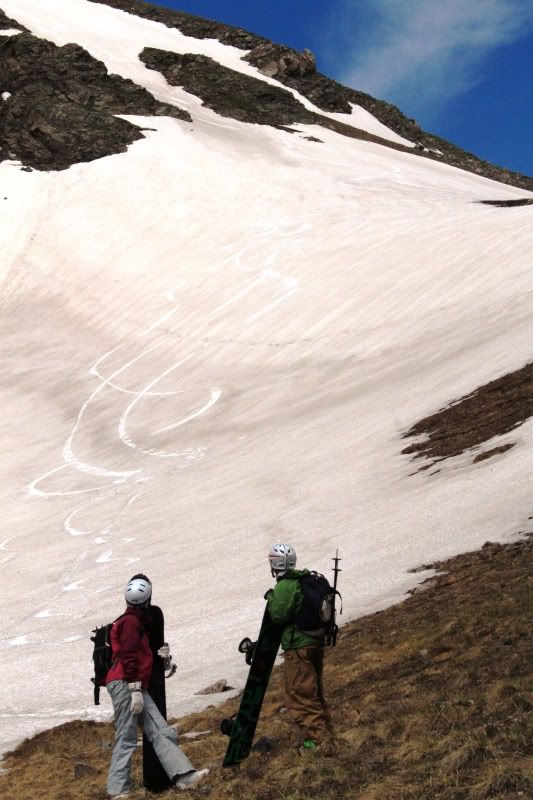 Photo:Cory Arola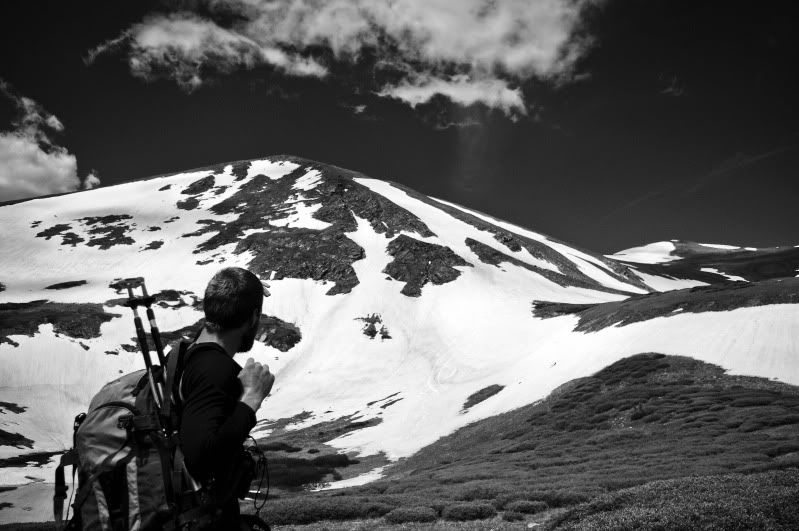 It wasn't until we got back to the car that a family on 4-wheelers rolled up, breaking the silence of the day with their flatulent exhaust note. It was all good though as they were soon off on their way and we once again had the basin to ourselves.
I don't know what it is about this basin, but it is one of my favorite in the Front Range. Perhaps it's its lushness, or perhaps its the fact that the peaks that surround you are so close. What ever it is, I love it up at Waldorf.
Or maybe its because when I head up there, I always get to see the 'O'-face.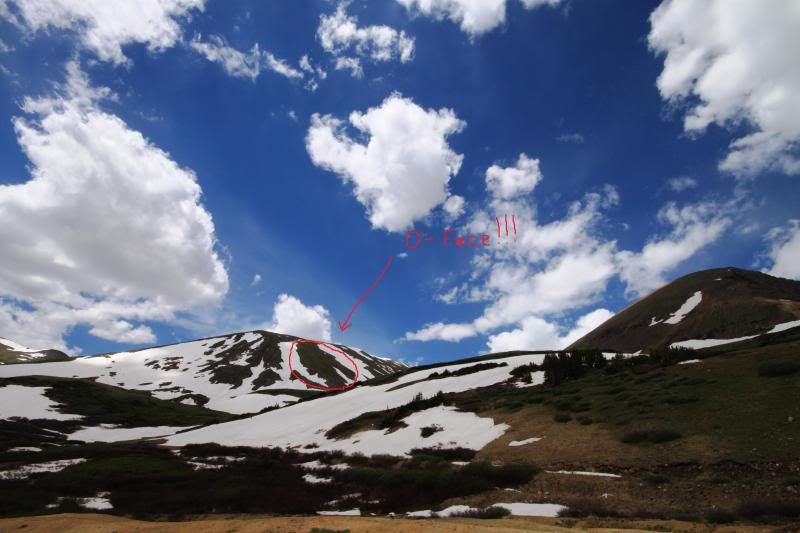 Back at the cars, we cracked a couple of cold ones, had a post-descent safety meeting and took in the views. Life is good.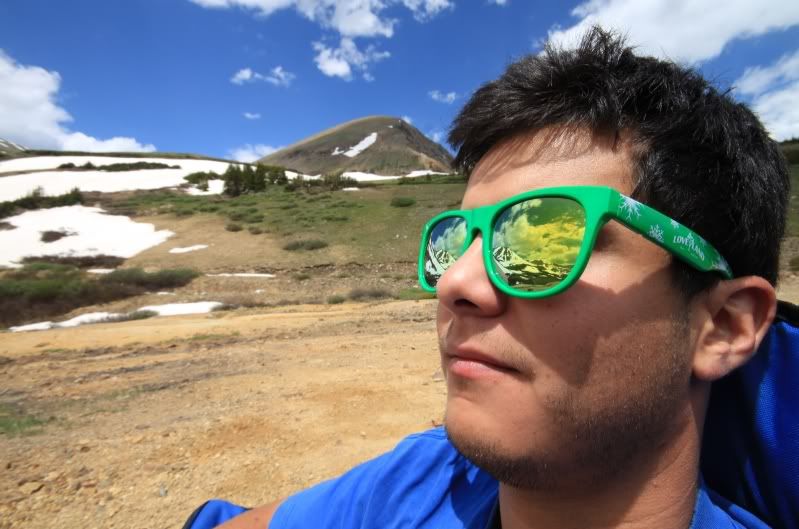 Our route. (map overlay courtesy of Cory Arola)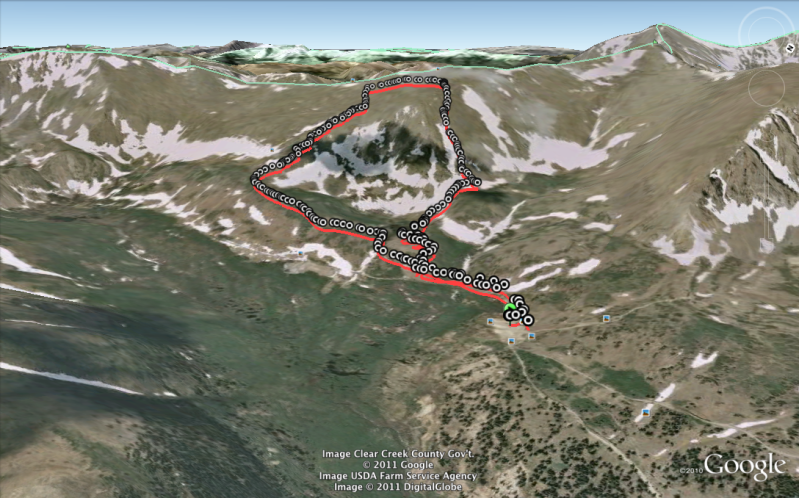 'til next time....thanks for looking.